"The Global Game Jam® (GGJ) is the world's largest game jam event (game creation) taking place around the world at physical locations.  The weekend stirs a global creative buzz in games, while at the same time exploring the process of development, be it programming, iterative design, narrative exploration or artistic expression. It is all condensed into a 48 hour development cycle." This year, we are excited to have two CT locations participating in the GGJ; Quinnipiac University and The Ferguson Library. Learn more about each of the sites below and learn more about the GGJ by visiting the official Global Game Jam site.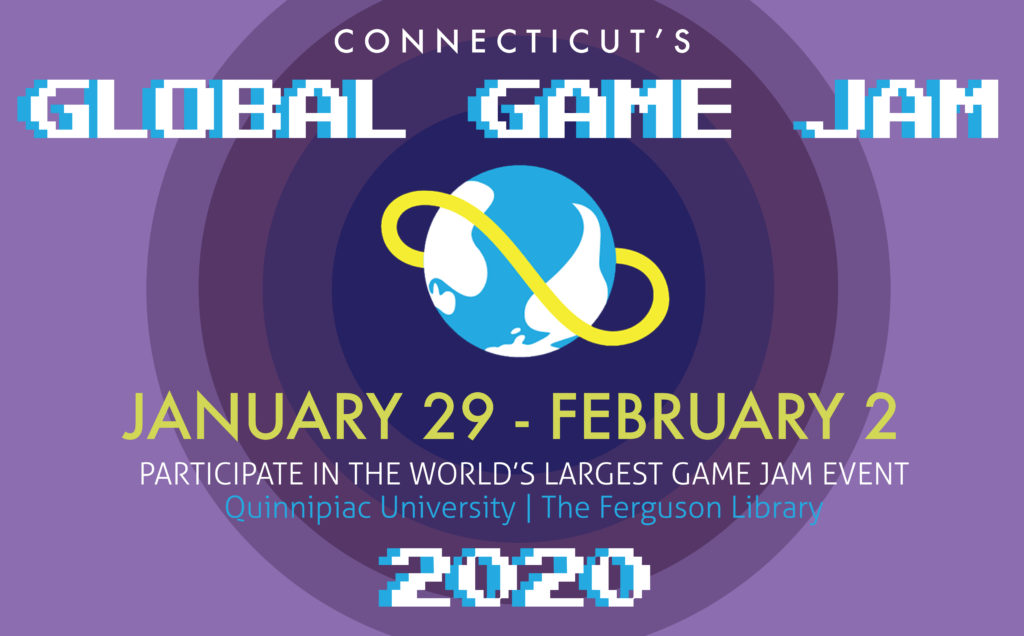 January 31st - February 2nd, 2020 | Hamden,  CT
Hours:  Open for entire 48 hours
Website:
Entrance Fee: None
Age Restrictions: 18+ only
Food Options: Access to food in close vicinity. Drinks and snacks provided on site.
Available Tools or Technology:
This Jam Site is BYOC. Participants must bring their own equipment to work on.
Food:
We will be providing pizza the first night only. There is a cafeteria open from 9am to 7pm across the quad from the venue.
Location:

The event will be located in the QU Center for Innovation and Entrepreneurship in the school of School of Business. Find #9 on
this map.
Parking:
Parking should be available in the North Lot. Enter from #11 in the map linked above.
The Ferguson Public Library
January 31st - February 2nd, 2020 | Stamford,  CT
Hours:
Open Friday 5-8pm; Saturday 8am-9pm; Sunday 8am-6pm
Partners: UCONN-Stamford; Sacred Heart University Department of Computer Science & Engineering; Quinnipiac University; Norwalk Community College, Fairfield University; the Business Council of Fairfield County; and the Werth Institute.
Age Restrictions: 18+ only; 16-17 with a parent or legal guardian
Available Tools or Technology:
Everything a public library offers.